Shrimp Enchilado (Camarones Enchilados) is nothing like a Mexican enchilada. I know it sounds the same, but trust me it isn't. Just like so many other Cuban recipes, it starts with a sofrito (sauté) of onion, green pepper and garlic. I've adapted this recipe a bit to my taste, but it remains delicious nonetheless. When I got married, my mom gave me this Cuban cookbook – Cocina Criolla, by Nitza Villapol. It's a bible really; a staple for Cuban cooks of my mother's generation.  It was a very special gift to me with much personal significance; written in Spanish for the Cuban cook, with whom I would soon join rank. When my mom left Cuba with my dad, she had to leave her book behind, as she and my dad left with nothing much but the clothes on their backs. Once settled here in the United States, she really needed her recipes. So, my beloved Aunt, Dulce Elena, mailed her 2 to 3 pages at a time from Cuba. You couldn't mail too many at one time, lest the letter be opened by authorities. Every single page made it to my mom, who had the pages lovingly bound into a new book. She wrapped the tattered book with paper and while the pages have yellowed, it is probably one of her most cherished possessions. Ingredients 2 lbs of fresh or frozen shrimp, peeled and deveined 1/2 cup olive oil 1 onion, diced 1/2 green pepper, diced 1-2 cloves garlic, minced 1/2 cup of parsley, minced 1 small can of tomato sauce (8 oz.) 1/2 cup catsup 1/2 cup of dry white wine 1 Tbsp white vinegar (not balsamic) 1 bay leaf 1 1/2 tsp salt 1 tsp (more or less) of pepper 1 tsp Worcestershire sauce 1 tsp Tabasco sauce 4 to 6 servings. Served over white rice. In a large pan, saute the onions and green pepper in olive oil. When onions are transparent, add all the other ingredients except the shrimp. Let the sauce simmer for a few minutes (you can make the rice now). A few minutes before you plan to eat, add the shrimp to the hot sauce and toss until the shrimp are fully cooked (pink). Serve over white rice. Enjoy. ...
This is a great vegetarian-friendly dish that even my hubby loved. "Hidden" veggies are a plus with my son, too. Ingredients: 1 large onion, diced 4-5 large carrots, diced 1/4 cup of olive oil 2 jars Marzano brand Marinara sauce (love this, it's a little bit sweet) 2 small zucchini, sliced thin 1- 2 packages of Barilla No-Boil Lasagna sheets 2 packages of Italian mix shredded cheese 1 16 oz container of ricotta cheese Parmesan Cheese salt/pepper to taste. Pre-heat oven to 350 degrees. butter/spray a 9×16 inch glass pyrex pan. Set aside. In a saucepan, sauté the onions and carrots in the olive oil until just about transparent. Add the Marinara sauce and simmer until the carrots are fork tender. Be sure to season the sauce with salt/pepper to taste. Time to build your lasagna: Start by ladling sauce into the dish, approx 1/2 a cup or so. Next, layer three sheets of lasagna side by side. Ladle more sauce, covering the sheets evenly. Spread shredded cheese next and dollop the ricotta evenly, too. Next, layer the zucchini just as you did the lasagna sheets. Keep repeating this until you either 1) run out of ingredients or 2) run out of room in your dish. The last layer should be cheese. Sprinkle Parmesan cheese generously over the top. Cover with foil and cook in middle of oven for approx. 30 minutes. After 30 minutes, remove the foil and let the cheese brown a bit for about 5 minutes. Remove from oven and let stand for 15 minutes.  This last part is really important if you want the lasagna to retain its shape and not spread into a heaping mess on your plate.  It still tastes great, just looks nicer....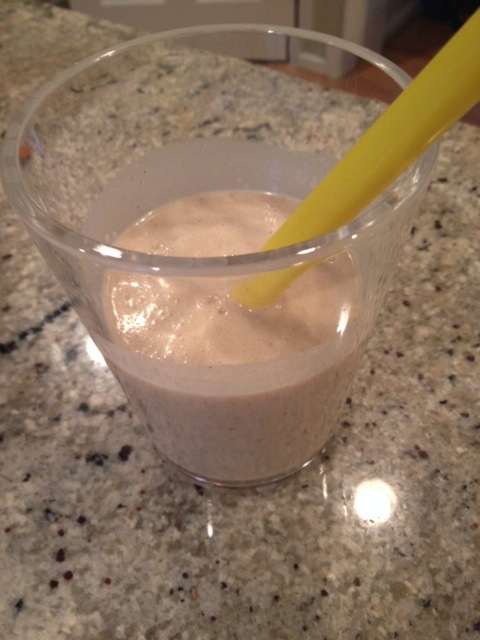 Filling, delicious and good start to your day.