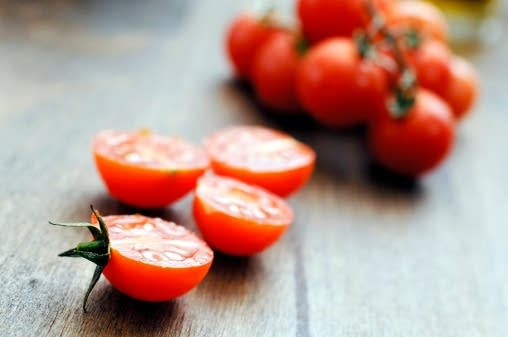 It's late summer…got cherry tomatoes? Make this easy weeknight meal! None of this is exact – just "eyeball it". Or as any Cuban mom would say "a ojo".
Cooked Pasta – I use the whole box (1 lb) of buccatini and/or linguini but it does not matter. Whatever you like (important: reserve the pasta water – don't toss it! Set it aside.)
4 oz. diced Pancetta (Boar's Head has one already prepared at deli counter)
Olive oil
Cherry Tomatoes, a bunch of them, halved
Optional – garlic, minced
Optional – Fresh Asparagus, chopped into bite size pieces
Salt/pepper or crushed red pepper flakes (YES!)
Buffalo Mozzarella – the small balls or cut up a bigger ball into small bite size pieces.
Green onion, chopped
Parmesan cheese, a lot of it 🙂
Boil the pasta "al dente" according to box instructions. Drain but KEEP the pasta water. While the pasta boils, in a big skillet, brown the pancetta. Drain the fat. To the hot skillet, add a little olive oil, then the tomatoes and saute until they loosen up a bit. You can add garlic and/or asparagus now too. Don't overcook.
Season with salt/pepper. Crushed red pepper flakes are definitely good too. Add the hot pasta to the skillet. Pour in a little bit of the pasta water to loosen up the noodles a bit. Throw in mozzarella balls and parmesan cheese. Add in fresh green onions at the end. Mix it up. You can drizzle a little more olive oil if you want.
Sprinkle with Parmesan Cheese. Eat!