Shrimp Enchilado (Camarones Enchilados) is nothing like a Mexican enchilada. I know it sounds the same, but trust me it isn't. Just like so many other Cuban recipes, it starts with a sofrito (sauté) of onion, green pepper and garlic. I've adapted this recipe a bit to my taste, but it remains delicious nonetheless.
When I got married, my mom gave me this Cuban cookbook – Cocina Criolla, by Nitza Villapol. It's a bible really; a staple for Cuban cooks of my mother's generation.  It was a very special gift to me with much personal significance; written in Spanish for the Cuban cook, with whom I would soon join rank.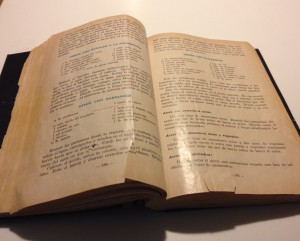 When my mom left Cuba with my dad, she had to leave her book behind, as she and my dad left with nothing much but the clothes on their backs. Once settled here in the United States, she really needed her recipes. So, my beloved Aunt, Dulce Elena, mailed her 2 to 3 pages at a time from Cuba. You couldn't mail too many at one time, lest the letter be opened by authorities. Every single page made it to my mom, who had the pages lovingly bound into a new book. She wrapped the tattered book with paper and while the pages have yellowed, it is probably one of her most cherished possessions.
Ingredients
2 lbs of fresh or frozen shrimp, peeled and deveined
1/2 cup olive oil
1 onion, diced
1/2 green pepper, diced
1-2 cloves garlic, minced
1/2 cup of parsley, minced
1 small can of tomato sauce (8 oz.)
1/2 cup catsup
1/2 cup of dry white wine
1 Tbsp white vinegar (not balsamic)
1 bay leaf
1 1/2 tsp salt
1 tsp (more or less) of pepper
1 tsp Worcestershire sauce
1 tsp Tabasco sauce
4 to 6 servings.
Served over white rice.
In a large pan, saute the onions and green pepper in olive oil. When onions are transparent, add all the other ingredients except the shrimp. Let the sauce simmer for a few minutes (you can make the rice now).
A few minutes before you plan to eat, add the shrimp to the hot sauce and toss until the shrimp are fully cooked (pink). Serve over white rice.
Enjoy.