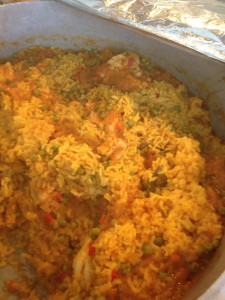 You'll need a wide, shallow pot for this recipe, similar to a Paella pan. My Le Creuset Dutch Oven works great! Because you will add lots of water (to cook the rice), the pan needs to be pretty big (wide).
Ingredients
1 large onion, diced
1/2 green pepper, diced
1/4 cup olive oil
2 cloves of garlic, minced
1 small can of tomato sauce
4 to 6 Chicken Breasts, halved
Optional: Chicken wings or drumettes (bones add extra flavor)
Salt and Pepper, to taste
White Wine (use any leftover wine)
1 Bay Leaf
4 cups of white long-grain rice
1/2 can of pimentos
1 can of peas
Bijol-type Seasoning/Coloring
Before you begin:
This recipe doubles easily.  
This recipe requires a fairly large, low & wide pan.  A Paella pan is ideal.  But, if you don't have one, don't worry.  Don't use a deep pot and remember that the rice, once cooked, will expand. NOTE: I used my Le Creuset Dutch Oven this past weekend. It is 5.5 Qts and it worked perfectly!
Feel free to adjust the amounts in this recipe, as it is not exact.
Heat oven to 400 degrees.
Make the Sofrito (also known as the "Holy Trinity" of latin cooking).  Heat olive oil in the pan at medium heat and sauté the onions, peppers until wilted.  Add the garlic.  Add the tomato sauce. Do not brown.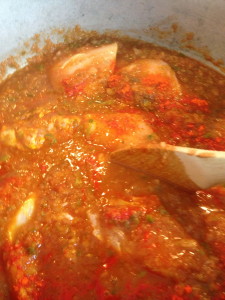 Add the chicken pieces to the sofrito mixture above.  Add about 1/2 cup or so of white wine and the bay leaf. Let the chicken cook for a few minutes while you prepare the rice.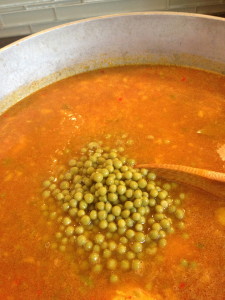 Measure the rice and rinse once.  Add the rice to the pan and then DOUBLE the water.  If you use 4 cups of rice; 8 cups of water. Add 1/2 a can of peas (For me, the more peas the better!) and some pimentos (for color mainly).  Then you'll add the Bijol.  You can find this in most grocery stores that have a latin/hispanic aisle. GENEROUSLY season with Salt and Pepper.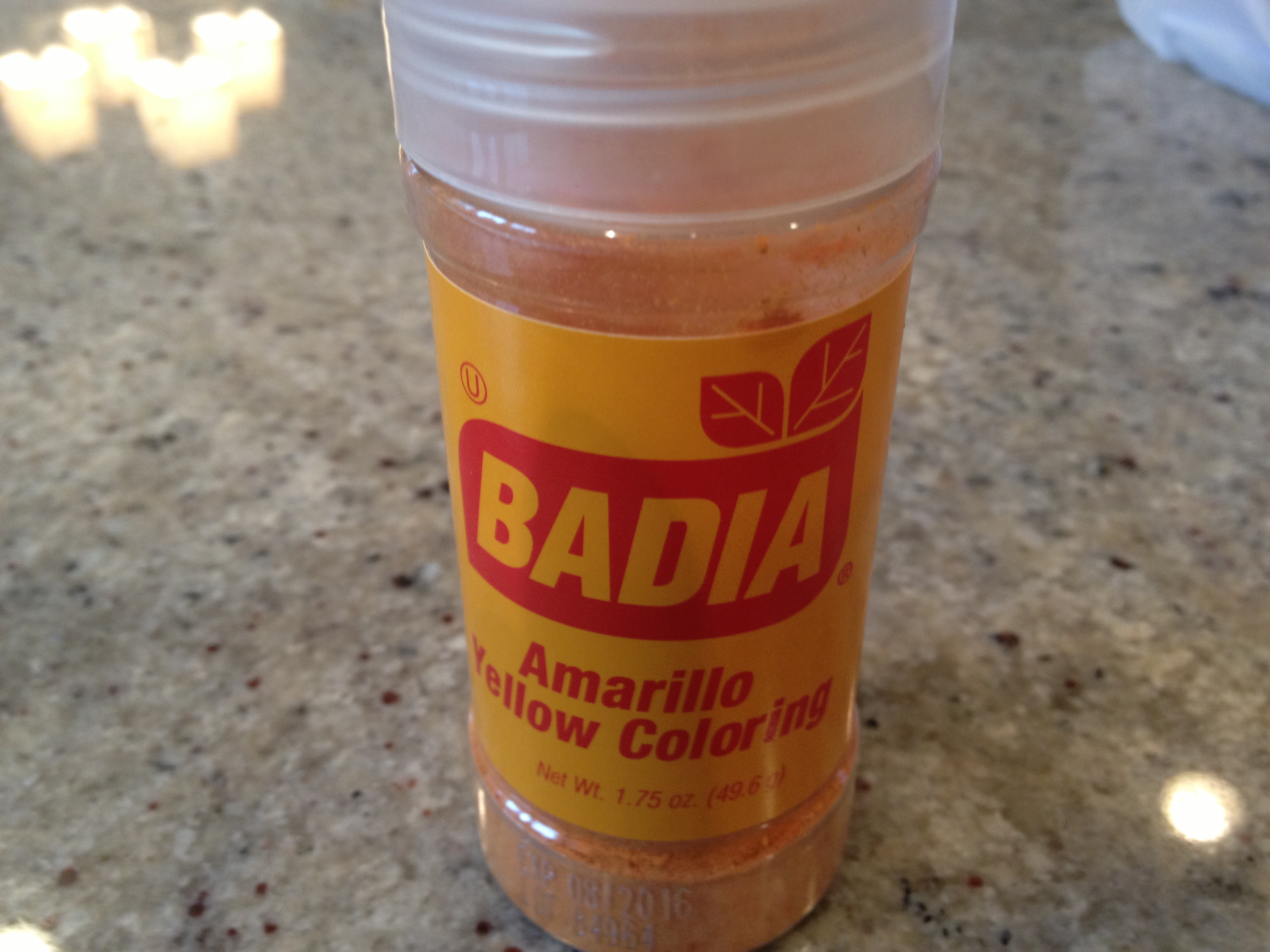 Bring the pan to a steady boil.  Cover tightly with foil and put into the oven.  Cook for approximately 30 minutes.  After 30 minutes, carefully peek inside to see if the water has been absorbed (and the rice is cooked).  If not, cover tightly and keep cooking.  It is difficult to BURN this recipe.  More often than not, it needs additional cooking.
Once it is done.  Add the remaining can of peas on top and serve.
Serving Size: 4 to 6
Courtesy: Marta, Family Recipe.