Today I planned to eat a green salad. I actually was looking forward to it.  But, my salad greens were frozen….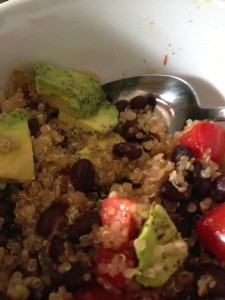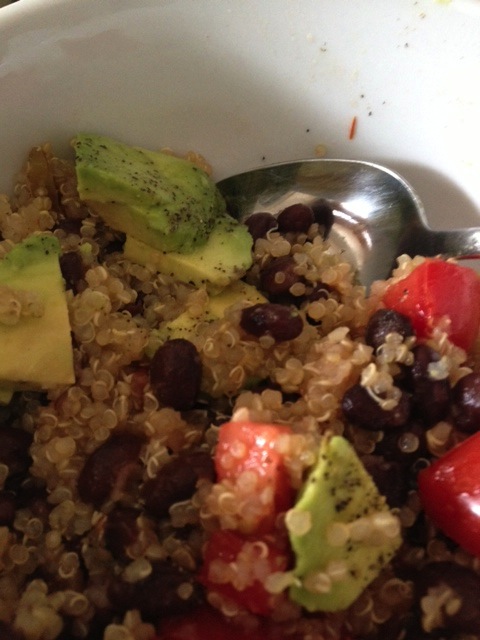 Today is Ash Wednesday and well, I don't eat meat on this day. Or Fridays during Lent.  This results in many days of cheese sandwiches and pancake dinners.  Well, I'm trying to eat better, starting today.  I planned to eat a big green salad at lunch, but my fridge is running a bit cold, resulting in frozen salad greens.  They were disgusting.  So, I opened the pantry and looked around.  There on the shelf was half a box of Quinoa. Last time I cooked it, I threw it down the drain.  Well, damn it, I'm going to make this stuff taste good!  Mission Accomplished…
Ingredients
1 cup of Quinoa
2 cups water
1 boullion cube (I used chicken, but you can use veggie)
a splash of white wine – it was there on the counter 😉
1 can of black beans, rinsed
2-3 Tbsp Medium Salsa
1/2 small tomato, diced
1/4 Haas Avocado
Salt, Pepper
drizzle of Extra Virgin Olive Oil
First, you have to cook the Quinoa.  I followed directions I found online. First you rinse the Quinoa thoroughly.  Then you measure out the liquid, bouillon and wine into a saucepan and bring to a boil. You use twice the amount of liquid to cook the Quinoa.  So, 1 cup Quinoa requires 2 cups of liquid.  Using bouillon and a splash of wine adds extra flavor. Once boiling, you add the Quinoa and immediately lower the heat to low and cover.  Set timer for approx. 15 minutes. It should be fluffy, like rice and not too wet.
While that's cooking open the can of beans and rinse.  Put the beans into a tupperware bowl and mix in Salsa and diced tomato.
Now, assemble your lunch:
1/2 cup of black bean mixture into a bowl
1/2 cup of hot Quinoa
Slice 1/4 of the avocado on top
Salt, Pepper and a drizzle of Olive Oil.
Mix it together.  YUMMY…
Now, put the Quinoa into a separate tupperware and you can recreate the same salad tomorrow. Won't get mushy if you store the items separately and assemble.