A little bit of cool weather got me thinking about Fall and soup. This one's delicious, hearty and ridiculously easy, thanks to ready-made soup mix.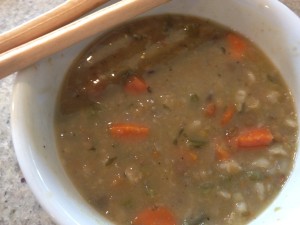 Ingredients
1 – 1 1/2 cups of Bob's Red Mill Vegi Soup Mix
4 to 5 cups of low sodium chicken broth (you can use vegetable broth, if you prefer)
1/2 large onion, diced
3 celery stalks, diced
3 large carrots, diced
1/4 cup olive oil
salt and pepper to taste
In a small saucepan, sauté the onion, celery and carrots in the olive oil until the onions are translucent. While that is cooking, put the soup mix and the broth into a crock pot. Add the onion/celery/carrot mixture plus salt and pepper to taste.  Let the soup simmer on low for several hours.  If it gets too thick, add more broth. Adjust seasoning accordingly.
Go ahead and freeze individual servings of the soup now. You'll appreciate it on a cold night when there's nothing to eat in the fridge and you have to study.