A crispy, oven baked potato is just heavenly. Consider these kind of, sort of like a healthy tater tot.
Ingredients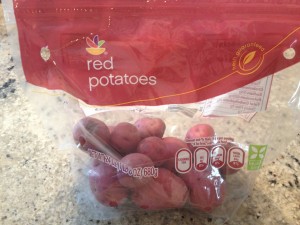 Small, round potatoes (I love how small potatoes come in these convenient bags.  I used a few, and sealed up the rest for another day.)
extra virgin olive oil
kosher salt
freshly ground black pepper
(optional) thyme or rosemary
Pre-heat oven to 450F.
Don't peel the potatoes. Drop them into a pot of salted water, bring to the boil. Simmer for approx. 15 minutes until they are fork tender. They should be just about cooked, without being too soft or mushy.
Drain, and arrange on a lightly oiled baking sheet. Use a potato masher to squash each potato flat.
Drizzle with olive oil. Season each potato with sea salt, pepper and spice.
Bake on the top shelf of the oven for 20 to 25 minutes until crisp and golden. Serve hot.
Source: The Pioneer Woman