Celery you might ask? Yes, celery.  This soup comes to you direct from a distant relative who lives in New Orleans. I've taken the liberty to lighten it up a bit and the end result is just as delicious as the original. I also have omitted "Accent" from this recipe. Remember that stuff from the 1970's? Well, it's simply MSG and totally unnecessary.
Ingredients
3 cups of finely chopped celery, including the leaves
2 cups of chicken stock (preferably low sodium)
2 cups boiling water
1/4 cup white onion, minced
2 Tbsp butter
3 Tbsp flour
2 cups milk, 1%
1 cup of whipping cream (optional)
Salt and Pepper to taste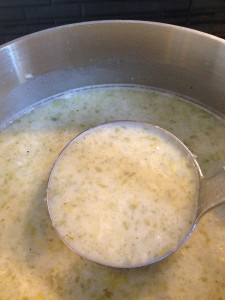 In a large stock pot, cook the celery in the chicken stock and water until very tender. Set aside.
In a separate sauce pan, sauté the onions in butter but do not brown. Add flour to make a roux. Add milk to the pan and heat through until the texture is smooth and thick. Add the cooked celery to this pot.  (Note: if you prefer a smoother consistency, you can pass the celery through a sieve and extract only the liquid. I just pour all of it into the milk mixture.  I like it this way and it is easier!) Add salt and pepper to taste and optionally, you can add a cup of whipping cream to really make it thick, but it is delicious regardless.
Yield: 8 servings