I'm almost embarrassed to post this. I'm just really hungry this morning and by chance, pulled this out of my pantry…
A few weeks ago I went to Wegman's and noticed they have a new Granola Bar.  Just like a salad bar. At $5.99/lb. that snack can be deceivingly expensive.  But, I made a small batch and it was gone in a matter of hours.
Now fast forward to today and remember, I am once again hungry.  "What can I eat that is healthy and satisfying?" Well, I realized that I had all the ingredients to make this same granola from items already in my pantry. You see, during the holidays I bake cookies. I always buy too much and end up with leftover ingredients. I feel kind of guilty buying more baking stuff, when I have lots of little half-empty bags of nuts and dried fruit (there's never any leftover chocolate chips). But I always do. If I'm going to bake cookies, the ingredients need to be fresh.
This is a great way to use up Christmas cookie leftovers…
*please note there are no quantities listed below. You use up whatever you have on hand and "eyeball it", adjusting quantities as needed.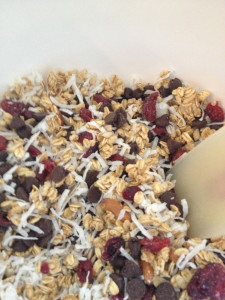 Ingredients:
Granola (I used half a bag of  Bear Naked Vanilla Almond Crunch)
shredded coconut
dried cranberries (i always have these on hand for salads)
misc. nuts
chocolate chips (duh)
The directions are very complicated: pour ingredients into a large bowl and mix.
I poured the granola into an existing and half eaten jar of nuts from Costco, incorporating the leftovers into the mix, too.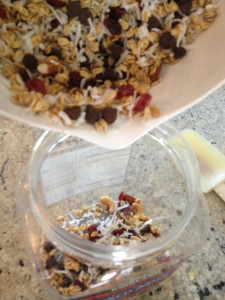 Voila! Chance Granola and I cleared out much-needed shelf space in my pantry!