Simply put, the most requested recipe, ever. Spinach is the star in this dish. Don't skimp on it…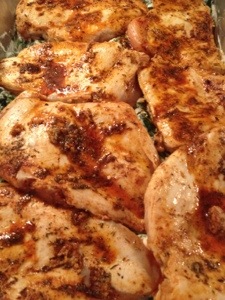 Ingredients
3/4 lb fresh spinach leaves (I use baby spinach, two bags)
1/2 cup sour cream
1/2 cup mayonnaise
1 Tbs finely chopped onion
1/4 tsp nutmeg
3 Tbsp butter
1 tsp. paprika
1/2 tsp sage
1/2 tsp thyme
1 clove garlic, crushed or minced
4 skinless chicken breasts, halved
2 Tbsp lemon juice
1/2 tsp. salt
1/4 tsp. pepper
Preheat oven to 350 degrees.
Steam spinach until wilted (I use the microwave). Mix together sour cream, mayo, onion and nutmeg in a 13×9 inch baking dish. Add wilted spinach and mix/spread evenly over bottom of dish. Set aside.
Melt butter in a skillet over medium heat. Add seasonings and stir until hot and frothy, about 2 minutes. Add chicken and cook, turning once until brown on both sides, about 5 minutes. Place chicken on top of spinach mixture. Pour/scrape drippings over chicken. Sprinkle with lemon juice, salt and pepper. Cover with foil and bake for 30 minutes, or until fork can be inserted easily.
Serves: 4
Serve with white rice.
Courtesy: Capital Classics: Recipes from the Junior League of Washington (via my mom)